Digium®, Inc.
Digium®, Inc., the Asterisk® Company, created and is the innovative force behind Asterisk, the most widely used open-source telephony software. Since its founding in 1999 by Mark Spencer, Digium has become the open-source alternative to proprietary communication providers, with offerings that cost as much as 80 percent less. Digium offers Asterisk software free to the open-source community and offers Switchvox, Digium's Unified Communications solution to power a broad family of products for small, medium, and large businesses. The company's product line includes a wide range of telephony hardware and software to enable resellers and customers to implement turnkey VoIP systems or to design their own custom communications solutions. At Digium, we're changing the way businesses communicate.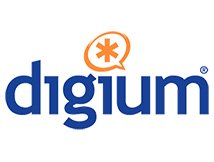 Asterisk
Asterisk is the world's most popular open-source telephony project. Under development since 1999, Asterisk is free, open-source software that turns an ordinary computer into a feature-rich voice communications server. Asterisk makes it simple to create and deploy a wide range of telephony applications and services.
Code for Asterisk, originally written by founder and CTO, Mark Spencer of Digium, Inc., has been contributed by open-source software engineers around the world. Currently boasting over two million users, Asterisk supports a wide range of TDM protocols for the handling and transmission of voice over traditional telephony interfaces, featuring VoIP packet protocols such as SIP and IAX among others. It supports the U.S. and European standard signaling types used in business phone systems, allowing it to bridge between next-generation voice-data integrated networks and existing infrastructure.

Competitive AdvantagesWhy Callisto?
Same-day and international shipping
In House engineers & field technicians
Dozens of new and vintage product lines
150 Years combined experience
Top-notch customer service
Reliable in-house repair center