Jabra
At Callisto Communication, we understand how important sound quality plays in your unified communication solution. That's why we offer a comprehensive selection of corded and wireless headsets by Jabra. Jabra carries optimal solutions for employee mobility and comfort to improve workplace satisfaction. The headsets provide high-quality sound while limiting the amount of background noise, providing clear communication between your employees and customers.
Headset Benefits
Productivity – With the ability to work hands-free, your employees are able to multi-task and complete more jobs efficiently.
Flexibility – With the mobility of the headsets, employees can stay in touch no matter where they are. Plus, with unified communication capabilities, they can connect to a variety of devices with ease.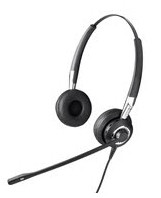 Jabra Bluetooth
Utilizing the latest innovative technology, Jabra Motion is the ultimate Bluetooth Headset for Business communications. Now with motion sensors, the headset responds to movement and adjusts to varying noise environments. Jabra Motion also pairs easily with your mobile device, for convenient use.
Learn more about Jabra Motion – Bluetooth Headset
As unified communications professionals, we have years of experience providing quality audio products and solutions to professional communities nationwide. Contact us or call Steve at 636-812-3602 for additional information regarding our Jabra headsets and Bluetooth technology today.

Competitive AdvantagesWhy Callisto?
Same-day and international shipping
In House engineers & field technicians
Dozens of new and vintage product lines
150 Years combined experience
Top-notch customer service
Reliable in-house repair center