Refurbished ShoreTel Phones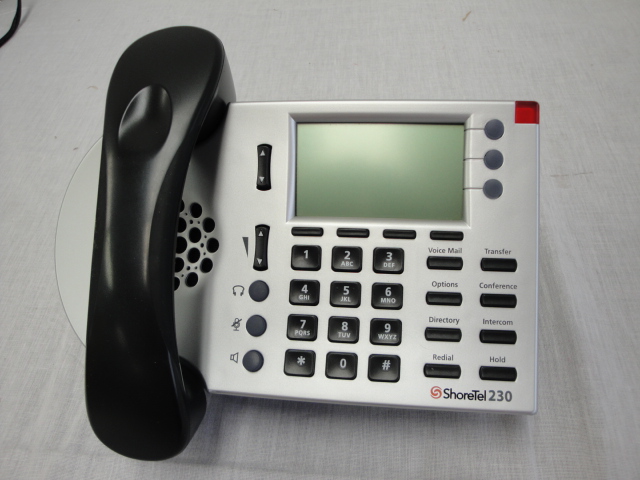 Shoretel has been a leading unified communications leader since 1996 when they first entered the telephony market. Started in 1996 as Shoreline Communications, Shoretel quickly switched names to the current version of Shoretel and began shipping its first products out the door in 1998. Shoretel products empower organizations of almost any size to integrate all communications processes; voice, video, messaging, and data with their business solutions. The cost-efficiency of Shoretel communications offerings is what enables many small to mid-size companies to not only rely on Shoretel but to prefer Shoretel over the leading competitors.
Whether you are a school, hospital, or just a small office we have solutions to help fit your needs. Callisto Communications has years of experience in repairing and refurbishing Shoretel phones and networking systems. Choosing to acquire a refurbished Shoretel phone system or to repair your current Shoretel system is the fastest solution to minimize your downtime in your communications. Not only will refurbish Shoretel phones save you money and time, but they also save you and your company the hassle of learning a whole new communication system. The difference between Callisto and everyone else is that we will help you get back and running quickly with your current system as well as provide assistance for the long term. We pride ourselves on becoming partners with all of our customers.
Refurbished Nortel Phones

With over 80 years of combined support and sales of Nortel equipment, Callisto is the qualified choice for your business's Nortel system needs. Offering a complete line of refurbished Nortel phones and routers, we ensure every piece of equipment goes through arduous testing and refurbishing process before being sold to the public.
Although Nortel has been acquired, removing or discarding your equipment is not necessary. Nortel equipment that is properly maintained will help mediate your business's needs while eliminating the need to upgrade your platform and incurring additional costs. Our IT Support Team is available 24/7 a day to assist you with any of your equipment needs.
Refurbished Nortel From Callisto
When you order your refurbished Nortel phone system with Callisto you also receive:
24/7 IT support to assist you with any equipment needs
12-month warranty
Large inventory of Nortel products for fast service
Getting the best price/performance for your Nortel Phone System
All of our Nortel refurbished telephones are individually boxed and contain:
New lit packs
Handsets
14′ line cords
12′ handset cords
New plastic housings
ShoreTel or Nortel Support
With our team of seasoned technicians at your disposal, we can provide support, maintenance, crash kits, and upgrades to service any of your Shortel or Nortel equipment. Plus, with our same-day turnaround services, you are guaranteed a quick return of your equipment.
If you are having technical issues that need immediate assistance or would like information on the equipment we sell or service, contact Callisto Communications today.

Competitive AdvantagesWhy Callisto?
Same-day and international shipping
In House engineers & field technicians
Dozens of new and vintage product lines
150 Years combined experience
Top-notch customer service
Reliable in-house repair center